Premier Partnership Sponsors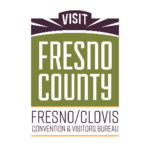 Welcome to the
Clovis Chamber of Commerce
Your Go-To Resource for Business Development in the Central Valley
Gain strategic opportunities to increase awareness of your company right here in the Central Valley. Chamber members gain valuable resources for business development, relationship building, and increased local exposure.
Want to know about EVERY upcoming event & stay better connected with our Chamber? Download the Chamber Mobile App for your smart phone or tablet. Once installed, you'll receive text notifications for every Chamber event!
 Free Logo Listing
Free logo listing with link in our online directory seen by over 84,000+ website visitors annually and counting!
 Member Spotlight
Member companies are spotlighted to our 31,000+ social media followers in new member intros, sponsored event campaigns, and announced regularly in our Chamber magazine, The Chamber Review.
 Educational Seminars
Participate in a wide range of educational seminars and programs for business development, including topics such as human resources, marketing, employment law, and more.
 Build Relationships
Attend fun and engaging business events where you can meet & build relationships with business owners and professionals in Clovis, Fresno, and beyond. Step up your business development by developing your own referral network.
 Expand Local Outreach
Spread awareness and celebrate your Grand Opening or Ribbon Cutting event with our Chamber and expand your local outreach.
 Free Online Distribution
Submit business Quick Tips, Good News, and promotional flyers for FREE online distribution.
MEMBERSHIP BRINGS
CREDIBILITY

TO YOUR BUSINESS!

Being an active member of a reputable Chamber of Commerce increases perception of your brand's leadership & trustworthiness. According to market research many prospects are inclined to think a member company's products or services stack up better against competitors. For example, did you know that when people know an insurance company is a member of their local Chamber, they are 43% more likely to really consider purchasing insurance services from that company? Locals are also 40% more likely to eat at a Chamber member restaurant. Are you ready to become a member? Let's talk about how we can complement your business development strategy.
Read more about member
benefits
Stay up to date with emails
Visit our calendar for more events.
>
November

2020

Mon
Tue
Wed
Thu
Fri
Sat
Sun

2

PPE Supplies- Curbside Pick Up At The Chamber

•

3

PPE Supplies- Curbside Pick Up At The Chamber

•

4

*Cancelled* Wake Up Clovis-Reducing Holiday Stress/Charity Event

Virtual Coffee Connect with one-on-one Speed Networking

PPE Supplies- Curbside Pick Up At The Chamber

• • •

5

PPE Supplies- Curbside Pick Up At The Chamber

•

14

The Clovis Chamber at Poverello House

Ribbon Cutting- Tru Blue Wellness & Massage

Ribbon Cutting- Just My Essentials

• • •

15

The Clovis Chamber at Poverello House

•

18

Wake Up Clovis-Live Zoom with Eric McCormick, President of McCormick Marketing and Mike Maiorana, Senior Manager of Business for Bulldog Sports Properties

Lunch Connect- Riley's Brew Pub *Cancelled*

• •

26

The Clovis Chamber- Office Closed

•

27

The Clovis Chamber- Office Closed

•
The Clovis Chamber celebrates our local small businesses and the contributions they make to our local economy and community. We urge you to Shop Local in our community in honor of Small Business Saturday this November 28, 2020, and throughout this holiday shopping season pic.twitter.com/aSgDAHcnyF
ORGANIZERS OF BIG HAT DAYS & CLOVISFEST
BIG Hat Days and ClovisFest, the largest two-day events in the Central Valley, bring over two hundred thousand visitors to Old Town Clovis. They provide great family fun and contribute over $5 million to the local economy. We are proud to be the organizers of these successful community traditions behind the scenes.